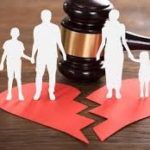 Lehi, Utah is a city that has a long history. Lehi's roots go back to the 1850s when a group of Mormon pioneers settled the area around Dry Creek in Utah Valley. The city is named for Lehi, a prophet named in the Book of Mormon. Today, it has a population of approximately 47,000 people. It is home to the Lehi Main Street Historic District, which is listed on the National Register of Historic Places. It has buildings that were constructed in the Gothic and Italianate styles.
If you are you are navigating the often confusing world of family court in the city of Lehi, Utah, it is important that you work with an attorney who has experience handling the specific type of case you are facing. Our skilled professionals at CoilLaw, LLC are standing by ready to assist you with any family law issues that you may be facing.
Family Law
Going through a divorce can be trying for anybody, especially for a parent. If you are considering ending your marriage or if you are currently working through the fallout of a divorce, work with a family attorney who can handle your case with compassion and a clear understanding of your goal. At CoilLaw, LLC, we handle the following family law case types:
Prenuptial and postnuptial agreements;
Spousal support;
DCFS actions;
Child support;
Child custody;
Divorces;
Adoptions;
Annulments;
Domestic partnerships;
Domestic litigation; and
Paternity suits.
Don't hesitate to reach out to one of our skilled family law attorneys today if you are facing any of the aforementioned issues. We will work diligently to assist you throughout each step of your case.
Work with a Lehi Family Law Firm
Whether you are working through a divorce, managing the issues that follow a divorce like determining an appropriate child custody arrangement, or you are facing a criminal charge and need to defend your case, you need to work with an attorney who is equipped to help you with your specific type of case. Contact our team of family lawyers at CoilLaw, LLC today to set up your initial consultation with Jill Coil.